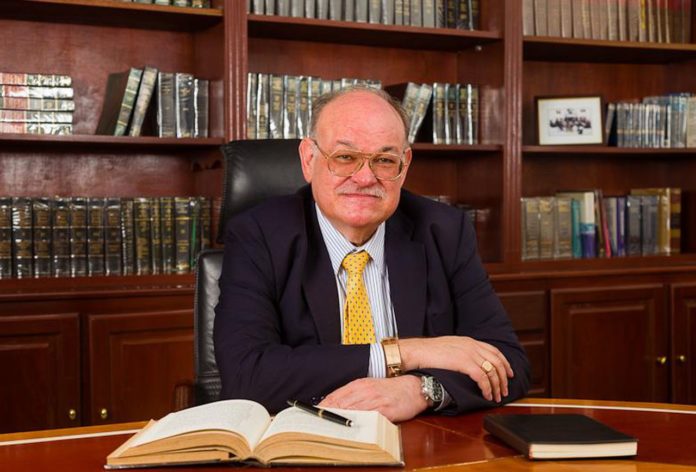 Q-. Hun SEN is the 34th and current Prime Minister of Cambodia. He has served as Cambodia's premier for more than 25 years, making him the longest serving head of government of Cambodia and one of the longest serving leaders in the world. What is your overview of the state of the development of Cambodia at his moment?
B: Well, we've had really unprecedented growth for the better parts of 2 decades now. It executed to a lot of different reasons. But I think the most important thing, was the fact that Cambodia emerged in the new era after 1993 UNTAC sponsored election. The new government knew Cambodia was behind everybody, they implemented legal and electoral reform. But in fact, they knew from their own experienced that Cambodia was behind other countries. Cambodia was so isolated for so long, because of the war, economic and diplomatic and political isolation in the 1990s. Cambodia is a small place even today we only have 15-20 million people compare to neighboring countries. But the pre condition was setting up legal. So we have to fight, the government is very smart in adopting and promoting economic growth.
Q- What is your assessment of the state of the bilateral relationship between Cambodia and US?
B: I think the trip Secretary Kerry made was really a positive trip because he did say he wanted to strengthen economic ties. He also knows that last week United States Representative was in town. Cambodia now has started to pay more attention on TTP. It's going to really reward back to two weeks ago. The country like Vietnam joins the TTP. Their economy will greatly benefit. Thailand also starts to realize it is a good thing to be a part of. So I think that is one issue and another thing is to help us to get membership in TTP. So that Cambodia and the U.S. could get a bilateral treaty. If we could get one that would also encourage U.S. investments but also strengthen our hands in forming TTP.
Q-. Could you please tell us more about what does Amcham cambodia represents today in the country and more about the services and activities that you are giving today?
B: We do really some unusual things. Things that other chambers don't do. For example, every ambassadors virtually have business mission that go out not just regional but also the U.S. we will get together to make a presentation at the place like Singapore and Hong Kong. We have business mission that go out. Bangkok, Singapore, Saigon, Hong Kong,. Place like Singapore and Hong Kong, most of major American companies are there so it's easy to reach out to. But in addition to that, AmCham played a big role in welcoming AmCham Hong Kong parralel and foot wear committees which represents a number of footwear comittees in the world. They come here to take a look about the economic environment in that regard. For three years running, we had reversed trade mission to the U.S. for we got together mostly Cambodian business men, we would go cities in the U.S. to visit businesses. For example, last year, we went to San Fransisco to Silicon Valley. We went to Atlanta, Georgia for energy division and Coca Cola of course. We went to Washington D.C. to visit IFC, OPEC and visa credit cards centre that located outside Washington. And other years, we went to Seattle, Washington to see Microsoft and Silicon Valley for the past years to see Cisco System and Intel to strengthen economic ties. What we hope is that they could make a deal there. But if they don't do that, they will learn a different business model and bring back something they may be applied here. Cambodia is a small and very distance country from the U.S.
Q-. The local industry has a role to play in ensuring that investors explore the country's potentials, what is your opinion regarding the possibilities the industry can offer to its investor? And what particular areas would be more interesting for investors in CAMBODIA?
B: The first two years that we had reversed trade mission with the U.S. we actually went to Long Beach. Last year, we did not. But we will visit again. There are many dimensions to our trips; there is political dimension too. For example, when we were in Seattle, we also visited Cambodian-American community. Every year, the mission headed by the U.S. Ambassador, but the last two years we had the minister of Commerce, H.E. Sun Chanthol, who is Cambodia-American, a former GED executive, a very smart and good guy. He's new to the position of the Ministry of Commerce in this mandate but he is one of the most dynamic members of the current government.
Q-. The country has an important economic growth, a strategic location, a dollarized economy, natural resources, and an open investment climate. But which are the main challenges of the country?
B: The great thing about Cambodia is that although we come a long way in such a period of time. Almost every area of economic endeavors are opened up for investments. The laws of Cambodia are applied equally to everyone. If you are foreigners, you get the same benefits as Cambodians except for properties ownerships. There are tremendous advantages but unless you come here to foresee what can be done here that is just about everything. This is the land of opportunity.
Q-.What is the vision you have of Cambodia as an investment hub for the next years? 
B: This will continue to be tremendous growth potentials here. We can do more on agriculture. But what we need is diversification, we have tourism, garment industries, but it's not going to be there forever. We try to encourage evolution from the garment productions. We have pretty good investment law here with good benefits for investors to come here. What we are trying to do is to encourage the government; they are dedicating and making a special law for special economic zone.
Q. Could you tell us an overview of the activities of the Law Firm?
B: You know, like any firms, what we do is most of our clients; they need somebody to explain to them how things work because what's written on paper is not exactly what things work. Our staffs here are between half and half of foreigners and Cambodian nationals. You have to rely on local people because they can provide insight process and properly advice of plan. I've been a legal adviser to the royal government for every mandates and have had some fascinate assignments for 5 years in a row. I went to the UNESCO for the cultural heritage conflict between Cambodia and Thailand. The fact that Cambodia won at the ICJ but didn't exactly state the border was, only the temple belonged to Cambodia.
Q-. Can you tell us more about your main partners and how open are you to new partnerships with foreign companies?
B: One reason, a lot of investors come to us is because we have reputation of doing things the correct way. People talk about corruption in Cambodia but I would tell you, I give the government credits on that. It's a tough job; for some reasons we never seem to get credit about corruption. ACU is very active and I give them big credits for that.
Q-. Being the visionary of the company and founder. How would you like to see your Law Firm in 5 years time? 
B: Well, we have expanded to Vietnam, Laos and Yangon, Myanmar. So I'd like to have those officers strengthened and I just do what I can to increase inbound investment. That's why I'm so busy with business mission. If they come and use my firm, that's fine.
Q-. Before going to our last question, can you tell us more about your personal and professional background? 
B: I came to Cambodia on a two months contract for the ruling party during the UNTAC sponsored election. The prime minister realized the support of Soviet Union and peace has to be found after the troops of Vietnam had left. I came for two months and they like the work that I did and they asked me to stay for two more months, I said okay. Then they wanted me to stay longer, I thought about it. I also don't want to go back to Los Angeles where there are thousands of lawyers there so why not I give this a shot. Whatever it is, this country needs everything. If you are a foreigner, you can do things here. They are isolated for so long here. There is no need to have skyscrapers for this country but the fact they those high rises building are built is because they do not want to be different from other countries in Southeast Asia. The U.S. still has a real image in this country; it's an attractive thing for that.
Q.- What would be your final message to our readers, why they have to visit, invest and enjoy your lovely country?
B: You can do all of the Google searches whatever you want. But you can't appreciate the place until you come and take a look for yourself. You can ask people that have been staying here for a while; they will tell you what's so good and bad in here. I'm not telling Cambodia is the best place for everyone. Maybe your economic interest would not work so well in here. But I tell you a bunch of companies came here and have done very good business here. We would not have 7% of annual growth rate if that was the case.