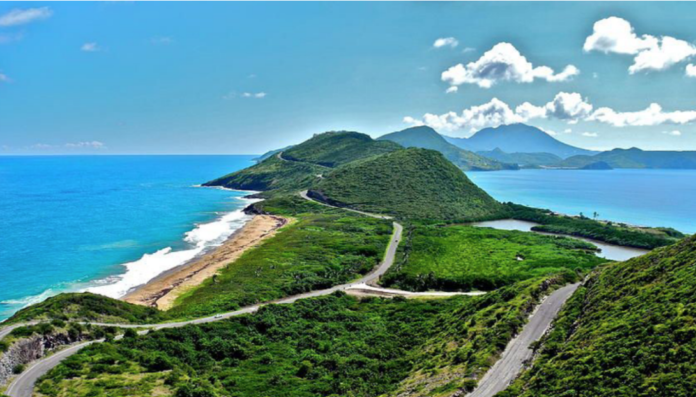 The two islands having been among the earliest British colonies – from the 17th century to independence in 1983 – filling Britain's coffers through the production of sugar. There, however the similarities end, the rivalry between the islands, united since 1882, reflected in the divergent policies of their parallel administrations with a unique constitutional arrangement of Nevis being part of the Federal Parliament whilst also having a separate parliament and its own Nevis Island Administration headed by a Premier. Since 1983 the Federal Government has made strident efforts to promote both St. Kitts and Nevis as a regional and international financial services centre by encouraging financial services activities and continually striving to enhance their attractiveness to overseas investors. With financial operations in particular viewed as a principal economic sector, the government is constantly reviewing new ideas and improving its financial legislation.
Today, Nevis the smaller and more glamorous sibling in the Federation is now home to more international financial companies than human beings and promotes themselves as the "gateway to peak returns" with strategic market access, and as the Caribbean island of investment opportunities. With over 31 years as an international financial centre, they have a strong claim to this. Nevis specifically is now recognised worldwide for its professionalism, efficiency, commitment to meeting international regulatory standards, and prolific wealth management and asset protection tools.
The sector now boasting an impressive collection of over 50 qualified trust and asset management companies and registered agents with ability in law, accounting, banking, taxation and finance. The Nevis international financial services sector has thus developed into a viable and highly regarded. Sector offering an array of business attractions that has seen its financial sector flourish.
Anchored on the islands' stability, financial integrity, well-planned modern and protective legislation, serviced by more than 20 corporate providers. Nevis has become renowned for its efficient incorporations of IBCs, Trusts, LLCs, foundations and captives.

Offering a Citizenship by Investment program, the jurisdiction is fast becoming the island of choice for high net worth individuals from around the world seeking to expand their investment portfolio.
Nevis, a circular island dominated by a verdant, mist-shrouded volcano, the almost 1000 metre high Nevis Peak the island has a rich cultural history stemming from their success as the most profitable sugar producer in the 18th and 19th centuries, because of the its fertile volcanic soil. Today the popularity of Nevis is rooted in its low-key, unspoilt charm, so different from socialite Barbados, or glitzy St Barts 40 miles away. The island, encircled as it is by miles of breath-taking, pristine beaches and dotted with ruins of the sugar plantation era is graced with a lush tropical rainforest that only complements the natural splendour of the coastline.
Investors were principally from the UK, North America and Canada, with a sprinkling of Europeans, but they are now seeing enhanced interest from Russia, China and the Middle East. Which can be mostly attributed to the country's Citizenship by Investment Programme, whereby those investing $400,000-plus in a qualifying development, may simultaneously apply for citizenship. The accompanying passport also grants visa- free travel to 127 countries, including all EU members. Introduced in 1984, the scheme has been more aggressively promoted in recent years, giving rise to a series of luxury fractional ownership developments on the island.
Nevis is also fast becoming a magnet for Foreign Direct Investment (FDI) in key sectors such as tourism-related real estate, financial services and international education. Nevis is host to a highly successful, fully accredited offshore medical university. Nevis has opened its doors to sound business prospects in the areas of International Financial Services, Tourism, Sports Tourism, Geothermal and Renewable Energy Sources, Agriculture and Agro-processing, Light Manufacturing, and Information Technology.
Revenues from the Citizenship by Investment Program, construction, manufacturing and tourism sectors have helped the economy to reduce its indebtedness and recover after several years of stagnant economic growth. St. Kitts and Nevis have been the leading exporters of manufactured goods to the United States in the Eastern Caribbean for the past several years. Nevis also enjoys the many benefits of the U.S. Caribbean Basin Initiative (CBI), which grants duty-free entry into the United States for many goods.
With incentives that can be in the form of exemption from import duty on materials for approved projects, tax holidays of up to 15 years and export incentives, companies registered in St. Kitts and Nevis may also repatriate all capital, royalties, dividends and profits free of charges on foreign exchange transactions. Besides which there are no exchange controls in St. Kitts and Nevis and the invoicing of foreign trade transactions may be made in any curren.
Prestigiously Nevis was awarded the best International Financial Centre Caribbean destination by Global Banking and Finance Magazine in 2012 and 2013 respectively.
Nevis also has a favourable time zone with the U.S. and is easy to access from North America. Several major commercial airlines fly directly to St Kitts from London, New York, Miami and Toronto and several charter airlines operate connections throughout the Caribbean. Connections to Nevis by ferry or water taxis offer a short scenic journey that makes the transfer an enjoyable experience.
With an economic outlook that is bright, coming out of the global recession creditably, with growth expected to continue into the medium term, Nevis therefore offers more than just a paradisiacal tropical isle but has become an investor-friendly jurisdiction, ripe for investment and eager for additional growth.