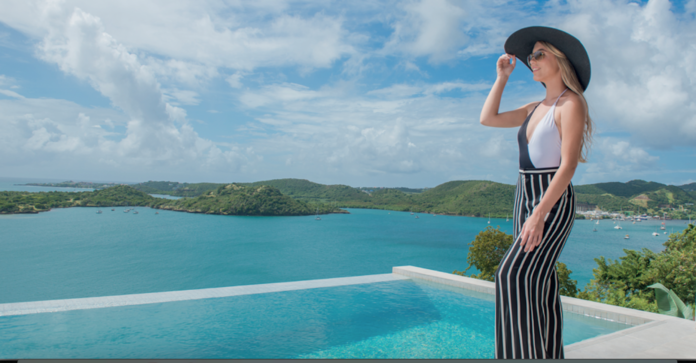 BLESSED WITH PERFECT YEAR-ROUND WEATHER AND ENCOMPASSING A LITTLE OVER 130 SQUARE MILES OF FERTILE SOIL, the Caribbean island of Grenada known as "The Spice Isle" is a place of verdant rain forests, neighboring islands, colonial plantations, rivers, vibrant coral reef, with a dynamic nightlife and year-round festivals. The perfect setting for both adventure and relaxation: its wildlife attractions, marine life, national parks, mega yacht marina, and pretty pastel towns all make it an exciting and exotic place to explore and live.
Situated on undeniably the most spectacular location on the island, The Point at Petite Calivigny is a world-class, one-of-a-kind, luxury private residence club and resort nestled on its own little corner of paradise. Its lush, private grounds gently slope down to an immaculate secluded beach and a modern deep-water marine facility perfectly designed to appeal to an affluent and discerning clientele.
Conceived by its owner Chanson D'Argent Holdings Ltd., construction of The Point Residence Club and Resort is currently underway and will be completed in two phases, the first of which is The Private Residence Club which features a collection of four 3-bedroom Villas each with private infinity pools and twelve 2-bedroom condominiums outfitted with 2 community pools, outdoor bar and grill areas and state of the art technology. The Point Residence Club also features a state-of-the-art gym, yoga and wellness center, restaurant and 24-hr security.
Designed in the style of contemporary West Indian architecture with warm wood finishes and nautical elements, each residence has been carefully curated with skillfully crafted furniture, fully equipped kitchens with the finest appliances, high-end finishes, spacious open plan living, outdoor kitchens, bars and beautifully landscaped tropical gardens. In furnishing the residences, world renowned interior designer Adriana Hoyos drew inspiration from the natural beauty of this breathtaking location with its tranquil, turquoise waters and the marine sanctuary of Woburn Bay that lies on the shores of The Point.
"WE ARE UNDERWAY TO CONSTRUCTING A WORLD-CLASS RESORT COMPLEX

FROM WHICH TO EXPERIENCE THE VACATION OF A LIFETIME"
From anywhere on the eleven-acre resort the 180-degree westward-facing seascape offers remarkable panoramic views of the famous Calivigny Island, and guaranteed dramatic daily sunsets. Entirely unique and exclusive from that of the Grand Anse tourist area w, residents at The Point will enjoy a rare combination of flawless contemporary luxury, five-star hotel luxuries with all the privacy, comfort and access of a home away from home.
Yet, as secluded as The Point is, it is conveniently located only a mere 15 minutes from the main business district and tourist hub and 20 minutes from the Maurice Bishop International Airport – serviced by major carriers from North and South America, Europe and the Caribbean. The airport accommodates direct international flights from London, New York, and Miami and also services private jets from its first-class Jet Centre.
The developers are offering these exquisite residences for sale with the options of freehold whole or fractional ownership starting at $350,000 – ideal for those who want to live the Caribbean lifestyle without the significant commitment of time and resources required to own and maintain a luxury property. The option of fractional ownership provides all the privileges of ownership and membership whilst minimizing annual operating costs and creating exceptional value for those investing in The Point. Benefits include a title deed, vacation entitlement of up to five weeks per year or vacation exchange, access to all resort amenities, as well as professional property management. Owners are given the option to contribute all or part of their annual fiveweek entitlement to the resort rental pool.
The Point at Petite Calivigny Private Residence Club Phase 1 is scheduled for completion in May 2018 with construction of Phase 2 resort to begin in December.
Website: www.pointcalivigny.com
Sales: [email protected]/Address: 1 Welcome Road, PO Box 3222, St. George's, Grenada
Phone number: +1 (473) 415 2727