Founded in 1997, Haiti Tech is the first local school for vocational training. It offers a wide range of courses designed to better the skills of people entering the workforce, or wanting to perfect a particular practice. After a 1970 survey revealed a void in the labor market in which middle management proved hard to find, an effort began to create a school that would prepare people in such positions and fill the gap in the market. Executive Director for Haiti Tech Rhony Desrogenes recalls: "There were engineers and there were workers, but no link between them. A group of 10 people, myself included, were hired to create the programs. We were supported by many institutions in Florida, and we were sent there for 5 months, to visit different schools, and see how a vocational training center is supposed to work. After that period, we spoke with many local's businesses to further understand what the needs of the market where. Finally, in the year 2000 we received our first group of students".
When it first opened, the school offered six basic programs: telecommunications; electro technics, electro mechanics; plumbing; air conditioning and building and construction.
Since then, Haiti Tech has become an integral part of the Haitian labor market, with a high success rate of students entering the workforce and very close ties to the business community. "Our students now work in over 200 hundred companies in Haiti" – says Mr. Desrogenes proudly. "Companies now come to us, looking for our best students and scouting for talent within our school" -the director remarks.
This success has greatly been possible due to Haiti Tech's strategy to engage local business. Seven members of their Council Board are company CEOs, and Haiti Tech is constantly reviewing their study programs alongside local companies. "Involving them is very important, because this way the can feel like they know the students", explains Mr. Desrogenes. "They know what they studied, and what they are trained to do and if they feel there is a particular skill that is missing in the market, we can devise a course for it".
Haiti Tech has in fact broadened the courses they offer, not only to include more crafts, but diversifying the types of courses. These now include Business Management, Industrial Engineering, and IT, as formal 2 year courses; and many others as part of a continuing course, in which duration variates.

"The continuing education programs are for people already in the industry, and want a course on AutoCad, for example. Or they can be certified as CISCO Network Associates" – explains Mr. Desrogenes,
"We now offer courses which are about 6 months long, and are aimed at NGO workers, sometimes expats that want to take a course while they are here. They can learn carpentry or masonry for example. We were asked by different NGOs to provide these courses, and such collaborations have been a great addition for the school.
It generally contributes with the revenue". Maintaining a healthy revenue stream has certainly been one in a series of challenges the school has had to face in their 17 years of operations, depending at times on foreign grants and local donations to maintain the high level of quality they are known for.
"In the last few years, a lot of local businesses have donated to Haiti Tech, sometimes in money for scholarships, other times in equipment, which is one of the biggest challenges" -says Mr. Desrogenes.
As a non-for-profit, Haiti Tech reinvests any and all profits, being able to offer full or partial scholarships to over 100 students a year. "This is very challenging as well", adds the director with a heavy heart, "Demand is very high, and we would love to be able to support more students, but it's never enough". With this in mind, the Haiti Tech Council Board has been searching for partners, such as Bank of Haiti, in an effort to find new ways to offer financial aid for students, namely loans that can be paid out after the course ends.
Mr. Desrogenes explains that another challenge that they have to face daily is equipment. "Equipment has to constantly be renewed, due to the fast speed of technology advancements and we feel responsible to keep up because our students have to learn how to use the equipment they will find out there, and renewing the equipment is very expensive". – he elaborates.
Despite having to face formidable challenges on a day to day basis, Haiti Tech's biggest challenge is none other than the goal they have set for themselves. Mr. Desrogenes explains, "We do all of this because our dream is to raise standards, not just in Haiti, but in the region. Our vision is to be a great school for the whole region, a leader in vocational education for the Caribbean". In order to reach such goal, Haiti Tech knows they will need the right partners who can support the growth strategies they have already designed for the school. "We would like to see more people involved in education sponsoring" -adds Mr. Desrogenes, "At the same time we would love more disposition from companies to network with our students. We have managed to create the right conditions, but we are convinced we can take it to the next level in the following years".
Haiti Tech's history has certainly been one of success. In only 17 years they have managed to grow the school to host around 700 students per year, most of who attend the regular two-year courses, and have provided many more with the opportunity to enter the labor market, both locally and abroad. However, perhaps their greatest accomplishment thus far is their effort to create programs in innovative fields that can not only provide job opportunities, but may in fact create new jobs. "We are the first school to have a Solar Energy program, and a new laboratory for it", explains Mr. Desrogenes proudly. "The SELF organization, Solar Electric Light Fund, received financing from the Norwegian government, and they funded our two-year program".
Students here have the opportunity to learn about solar panel installation and design, they learn how to build a network for themselves, as well as learning about the materials they utilize. "Energy, as you know, is a very big problem in Haiti"– states Mr. Desrogenes.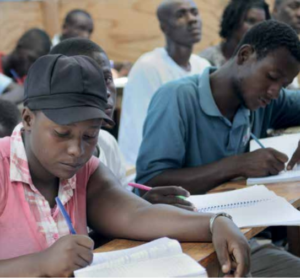 He shares with us his believe that solar and other natural resources can be a very good solution given the tremendous potential for solar energy. In addition to this program, they have also started offering entrepreneurship courses, so students have the tools to start their own businesses. "About 7% of our students set up their own companies however we would like to see this number increase in the future" – adds the director.
These courses have not only been important for their innovative capacities, but they have also been the ones to attract the most women into the school.
"In our Solar Energy course, 50% of the students are women. In business management it's around 60%, but overall, women make about 25% of our students, which is something we are trying to change. We offer financial aid and connections to companies that are interested specifically in hiring women, so more and more they are getting involved, and we hope to have a 50- 50 ratio in the future". – he tells us with a smile.

Created under a vision of service to the community, Haiti Tech has undoubtedly become a landmark, with work that has been instrumental to both students and companies.
"Our biggest contribution to the community is the education we provide. The fact that we are able to get jobs for so many students, is great for them, great for businesses, and great for Haiti" – says Mr. Desrogenes with humility, as he undermines the many different efforts Haiti Tech has provided to the community.
Every year they offer over 100 scholarships for students who maintain a high level of excellence; they organize activities at the school such as symposiums and forums; and they are always involved in helping the community. "Sometimes organizations come to us because they need to build something, for example, so we offer some equipment and students donate their time, however we are working on improving the level of our assistance even more" – he explains with enthusiasm.

In that direction, they started working with the Mayor's Office with the aim to support some city projects, such as the accessibility program done by them in the past, where Haiti Tech worked together with a government office to address accessibility issues for handicap people.

With a growing number of students each year, and an expanding curriculum in permanent dialogue with the private sector, Haiti Tech is well on its way to achieve their goal of a high quality vocational school for the Caribbean region. "There are a lot of opportunities in Haiti. If you invest in the education sector, which is something the sector needs right now, you will undoubtedly see your return of the investment easily", -confirms Mr. Desrogenes.

There are still many sectors that have not been developed, and through education those sectors will be able grow. Demand is always high in the education sector, so it's definitely the right time to invest in Haiti.