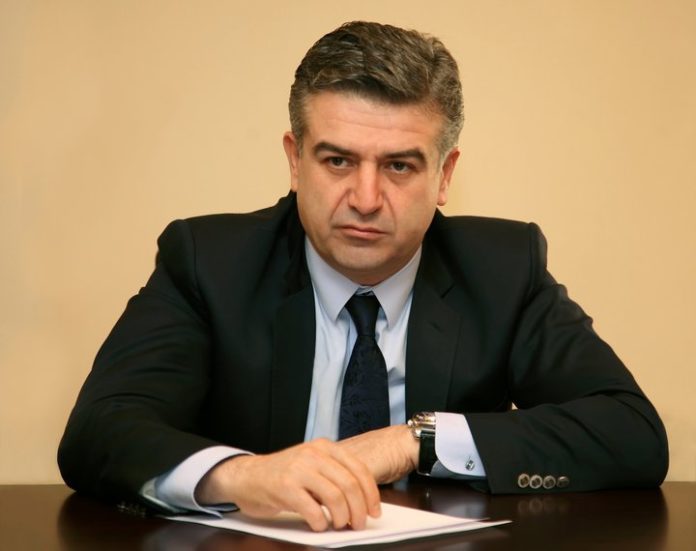 Appointed as the Prime Minister last September 13th, Karen Karapetyan made the decision on changing the Government structure and fight artificial monopolies and corruption.
Q- Since you were appointed as the Prime Minister, you made the decision on changing the Government structure with the aim of having a flexible team. As for example the Ministry of investment and Entrepreneurship Support shall help entrepreneurs discuss matters of concern to them and contribute to the elimination of obstacles in this domain. Other changes the Ministry of Transport, Communication and Information Technologies, the Ministry of Energy Infrastructure and Natural Resources etc. Which are the main priorities from each Ministry and how these measures will be guaranteed to be fruitful before the next National Elections? 
First of all I welcome you in Armenia. We are very happy that you are here, you are interested in Armenia, and we are hopeful you will like our country. In regards to our program and structure I will say the following. We have announced that it will be 2-stage program. First is a 6-months long program, i.e. what we are going to do during these 6 months: short-term, quick victories, diagnosis of the situation, understanding of the problems and diseases of our economy. Then, on the basement of that will be adopted a long-term program to solve all these problems. What the government must do is to create all the favourable conditions for the business development and no means hinder its development.
Q- In the Government program you discuss a variety of issues that concern private entities and individuals. You intend to fight artificial monopolies and corruption. Within 3 months the government intends to criminalize "unlawful enrichment" and in 6 months to introduce mechanisms guaranteeing execution of relevant laws. How this will provide confidence in the local business environment?
The answer is yes! First of all, concerning the artificial monopolists, what we are doing to fight against them is creating equal market conditions for all market players. And if this is done, artificial monopolists can't survive in the equal market conditions. What refers to the 3-months program, only today we had a government session, during which we had offered programs with all the deadlines and conditions, which should be implemented. This program is an anti-corruption program, targeted for reaching a developed and stable country. It's very important to fight against corruption.
Q- One of the main challenges in the country is the logistic cost as Armenia is a landlocked country. The program also addresses this issue by reforming the taxes and customs services in order to make tax collection less arbitrary. How this measure will propel the economic growth?
This step will propel the economic growth of our country, as it would do to any other country. If the tax and customs systems become an obstacle for a business, it can't survive. This is a huge problem not only in Armenia, but anywhere else in the world. Of course, there is a problem of logistics in Armenia. However, it's a two-side question. It's bad, but also good, because we must involve all our intellectual skills in order to solve all these problems. Business society must think intellectually: what businesses are export-oriented, what is better to earn more money, etc. It's a fantastic challenge for us. We have to use our brain for that. Using intellectual abilities will lead us towards more prosperous and stable country.
Q- We interviewed the president of Nagorno Karabakh, Mr. Bako Sahakyan. He said that International Recognition is a matter of time. In your program, you pointed out that this new Government will build up sufficient military capabilities for the creation and maintenance of military balance in the region and to proceed to the negotiation in regard NKR conflict settlement. How will this work towards making Armenia more competitive in the long-term?
First of all I would like the readers of Los Angeles Times to be sure that we are a very peaceable people. I'm not saying this just as a prime minister, as a political issue. We secure this military balance in order to keep our families safe. Just for that. What refers to the security of our country, it's the first step towards its development. We would be happy to spend the military costs on development of the country, but unfortunately, we have a military problem and should spend money on it. What refers to Nagorno Karabakh's president Mr. Bako Sahakyan's words regarding the fact that international recognition is a matter of time, I totally agree with him. Because no nation in this whole world can be forced to live the way it doesn't want to, including and especially Armenians.
Q-Having an extensive professional background in the private sector, what measures are being implemented to attract and diversify more FDI, while establishing confidence international investors?
Generally the private sector and the representatives of government (bureaucrats) have different approaches and driving forces. And when the private sector goes to the government sector, it becomes beneficial for the government in two terms. First you have a pragmatic approach to everything. Your decisions are based on precise calculations. Second, you already understand how the government sector hinders the private sector, and you can look at the question in a different way.
Q- What is the vision of the country for the next 10 years? 
Independant, fair, logical, intellectual.
Q- Education: 1980-1985 Yerevan State University Faculty of Applied Mathematics. Mr. Karen Karapetyan served as Deputy General Director for Strategy and Development at Gazprom mezhregiongaz LLC. Mr. Karapetyan served as First Vice President of Gazprombank Open Joint Stock Company. Mr. Karapetyan served as Director General of ArmRusgasprom CJSC. He served as Chairman of the Board at Gazprombank-Armenia. He served as Chairman of Armenian-Russian Export-Import Bank-Gazprombank Group Closed Joint-Stock Company (also known as Areximbank CJSC). He served as Chairman of Board at ZAO Gazprom Armenia. He served as Deputy Chairman of Closed Joint-Stock Company Armenian-Russian Export-Import Bank-Gazprombank Group since June 15, 2015 and has been its Director since June 12, 2013. He serves as a Director of Joint Stock Company Territorial Generating Company No.1 and Joint Stock Company Moscow Integrated Power Company. Before going to our last question, can you tell us more about your personal and professional background?
One of the features that helped me in my way was the fact that I knew all the peculiarities and obstacles of business inside-out. I experienced everything by myself.
Q- What would be your final message to our readers, why they have to invest and enjoy your lovely country?
I would like to send my greetings to Los Angeles Times readers, to the citizens of the United States, Armenians living there. Sometimes there's a perception that Los Angeles is an Armenian city, not American. And I would like to invite people to Armenia. It doesn't matter what nationality you are, or what part of the world you come from. Our country, our people will do everything so you can feel secure here and guarantee good perspectives for your business.
And couple of words about our country in order to trigger the interest of our future guests. As you said, we are one of the ancient countries in the world. We are very proud of the fact that we are one of the few ancient people that today have a sovereignty. We have a history of 6000 years. Near our city there is a Shengavit district, which has a history of 6000 years. As a comparison, it's 1000 years older than the Egypt pyramids. Our city is 50 years older than Rome. We are the first country to adopt Christianity. We had more than 13 capitals. Being an old nation, I think we are very young and modern.