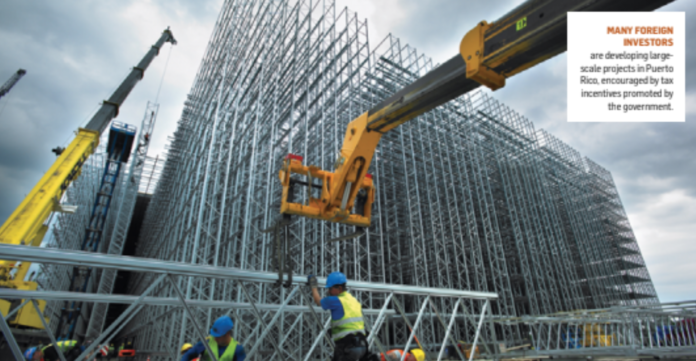 With the massive arrival of multinational companies to Puerto Rico beginning in the mid-eighties, the construction sector witnessed a boom that would continue uninterrupted for the following twenty years, as companies built their factories and headquarters, and the state developed the infrastructure necessary for dealing with the amount of goods being manufactured and transported in and out of the island, which required top-of-the-line systems of road and maritime transport, heavy traffic airports and seaports to connect the island to the US mainland and the Caribbean, and excellent communication networks. By 2008, when economic recession both in the US and globally hit the industry, construction was at its peak, and prices were reaching similar levels to those in Miami, due to which the sector managed to pull through the crisis and despite a relative drop in the pace of construction, managed to remain one of the most dynamic activities in the economy, growing faster than many other sectors and employing nearly 5% of the labor force. This was mainly due to the parallel expansion of the tourism sector, which took advantage of the existing infrastructure to continue developing and thus provided an important market for construction companies supplying the demand for new touristic facilities.

Moreover, in 2012 the government supervised the enactment of Acts 20 and 22, which encouraged foreign investment in the island by offering unparalleled tax exemptions and financial benefits, and as a result many construction companies arrived to the island to develop large-scale projects such as the Ciudadela in the neighborhood of Santurce, the Vanderbilt Hotel and the Puerto del Rey Marina. Fostering numerous partnerships with local companies and real estate agencies, both the Acts and the implementation of the PROMESA law by the Obama administration, opening the door for groups from all over the world to invest in Puerto Rico, have ensured the development of a thriving private sector and brought a great deal of investor confidence, right in the midst of a long-lasting crisis in the public sector. In such a panorama, construction has not only played a paramount role, but has served as the foundation of further development in the island, and has proven to be a sector full of potential, and rich with opportunity.
Puerto Rico's Ambassador: Nick Prouty's Vision of Economic Growth
Nicholas Prouty, CEO of Putnam Bridge and one of the most prominent businessmen in Puerto Rico, started his career as an investment banker in New York City, but soon grew interested in investing in the island as an opportunity to be involved in projects with a social aim. "The social aspect is as important to me as the economical aspect, and so I decided I wanted to play a part in helping families stay together, which is how I grew interested in these projects", he explains. His first acquisition was a series of nine figure investments, the first one of which was Ciudadela, the largest mixed-use urban infield project in San Juan. After securing a loan from the Banco Popular, Mr. Prouty began to work on his project to revive the old neighborhood of Santurce, in the historical heart of San Juan. That same year, 2008, marked the beginning of an economic crisis that would last for years, but Mr. Prouty is an urbanist with strong ideas about how cities should be lived in and carrying them out in San Juan was an old dream of his; and so the project continued. "When I bought this, the neighborhood was going through the same process as many other cities around the world, with people moving to the suburbia and building shopping malls outside the center", he explains. "But I believe in cities, and we have a great moment in history to make cities attractive for people to live in".
Contrary to what many people say regarding a lack of urban plan in San Juan, Mr. Prouty saw in the neighborhood of Santurce a vibrant community around a great deal of local businesses, thriving with
artists, designers and centers like La Placita, home to many cultural activities, as well as the Puerto Rico Museum of Art, around which it was possible develop a project that instead of pushing people out would breathe new life into the area. "We live in a world of limited resources, and suburbia does not make a good use of resources, demanding new infrastructure and fossil fuels to drive your car there", explains Mr. Prouty, "and on the other hand we had the opportunity to make a thriving area out of the oldest parts of the city". Fully aware, nevertheless, of the dangers of harming the community through the excessive gentrification of the center, also referred to as "centrification", the project was designed in a way so as to make it affordable and attractive to the community already present, fostering diversity through mixed-use development. "This is particularly important in Puerto Rico", he adds, "where you want to have cities where people can live close to their work and areas that are always active and make people feel safe and free to enjoy them fully".
Accordingly, the Ciudadela was built with its inhabitants in mind, as a way to solve particular problems and to meet particular needs. Among the most pressing of such problems was the high cost of electricity in an area where many did not have a disposable income and whose budgets were already stressed by loans, mortgages and the like. By using solar systems in the roofs of buildings the Ciudadela has been able to reduce electricity costs by 40%, and there is also a system for collecting rain water and reusing it through natural filtration, which comes in particularly handy in periods of drought. But the cornerstone of the project in Santurce will be its park, a USD 7.5-million investment expected to be completed in two years and to function as the center of community life in the neighborhood, providing fresh air, contact with nature and a space for cultural, communal and school activities. "Why did we do this? we did it because great neighborhoods have parks", says Mr. Prouty with great conviction. "The money for the park will come from me, it is something I want to give to the people of San Juan. Excessive amounts of concrete are already having visible effects in Puerto Rico, producing too much heat, so we are trying to pull out that concrete where we can, and plant as much as we can".
"We adapted swiftly to the new economy, and that is how we succeeded"
Ultimately, the Ciudadela project intends to go beyond recuperating a single neighborhood of Old San Juan and intends to become an example of a city re- imagined under different notions of what a city can be like, one in which women will have a central role to play –the average demographic in Santurce being 31-year- old unmarried women with post graduate experience–, and so will Puerto Rican small businesses, constituting the basis for the economic life of the neighborhood. "I have nothing against American companies, but one thing I learned from the Jewish, Korean and Mormon communities is the benefit of relying on local suppliers to develop new businesses and projects", explains Mr. Prouty. "It is the only way we will be able to heal ourselves economically in Puerto Rico, by buying from one another".
In fact, Mr. Prouty has very clear opinion about the right paths to growth in Puerto Rico, and believes that instead of growing through capital, which one option, or growing through transfer payments, which is another, the island's safest and most intelligent bet for the future is growing through economic development, and using financial capital as the gasoline to keep the engine of development moving forward. "I am always asking people to consider this: that it is not about distributing the pie, but about growing the pie for everybody", Mr. Prouty adds.

In this respect, nevertheless, Mr Prouty considers the possibilities now being opened by the instatement of Acts 20 and 22, which encourage foreign companies to invest in Puerto Rico to be particularly interesting, inasmuch as it is bringing money to the island allowing businessmen to start partnering and buying companies, and because it has encouraged local risk capital to be put into a great number of businesses in the island. "The people taking advantage of it are mostly American citizens", explains Mr. Prouty, "but they are moving to Puerto Rico, like I had to do, in order to personally oversee their investments".
For his own part, Mr. Prouty sees his investments, like the Puerto del Rey Marina (to which a whole article is dedicated in the Tourism section), as a solution to some of the country's largest disadvantages, which are the lack of good strategies for economic development, and the lack of enough local professionals to do the work that is needed. "Everything we do, we do it by ourselves", explains Mr. Prouty. "We have no banks and no investors; the money is my money, and when there is a project we like, we do it".
With the right kind of people and a government able to attract and embrace new capital, Mr. Prouty believes there is nothing you cannot do in the task of transforming a place so privileged as Puerto Rico into a true paradise for the future. "What is going on here is something larger than me or any other person", adds Mr. Prouty. "We are taking part in the making of one of the great places in the world, and we are achieving it by working together, not against each other".
In fact, the current attitude of openness towards foreign investment, public-private projects and opportunities for privatization in which even airports and highway systems are at play, have fostered a wave of partnerships, joint ventures and daring and creative projects never seen before in the island, and rarely seen today in other developing economies in Latin America or the South Pacific that have recently been in the eyes of American investors. According to Mr. Prouty, the reason for this is simple enough: contrary to a surprising and yet common misconception, Puerto Rico is part of the USA, and shares its legal system. "I have great respect for Latin America", says Mr. Prouty, "I lived in Argentina and my wife is from there, but I would never invest where there was no American flag, and where there is no respect for the rule of law. The rule of law is respected here, we have a safe banking system, we have nine-figure balances, and that is what has made us feel comfortable about making the investments we have made". Enjoying all the benefits of being part of the US, a tax system that exempts you from the obligations of income tax, and a government intent on attracting capital and recognizing its importance in a world where capital is portable, Mr. Prouty is adamant about the great potential of the place he now calls home. "Most of our friends are form the island, we feel an enormous sense of family, and we feel extremely comfortable", adds Mr. Prouty with a smile. "And it is simply a beautiful place to live".