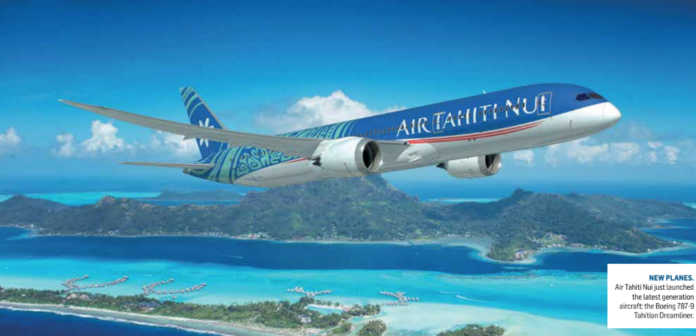 Mr.Matthieu Bechonnet, CEO
Have you ever experienced uniqueness? Have you ever embraced a culture to its fullest? Have you ever been to one of the remotest places on the planet? Have you ever boarded a Dreamliner to Paradise? … Wait, what's a Dreamliner ? We asked Air Tahiti Nui.
In twenty years, the company grew from a one leased aircraft to a unique brand, the airline of choice to fly from Los-Angeles, New- York, Auckland, Sydney, Tokyo, Osaka or Paris, to the magnificent French Polynesian island of Tahiti.
Air Tahiti Nui was born in 1996 in Papeete. Flights started operating from Faa'a International Airport in 1998. Until 2000, Air Tahiti Nui had one aircraft, on a leasing basis. After 9/11 and the oil and financial crisis, the dynamic changed a lot and airlines that used
to operate went bankrupt, so, in 2001, they opened the route to Paris through LA and grew into a five aircraft airline, bringing up to 70% of Tahitian tourists. Air Tahiti Nui, as we
know it today, was born.
Throughout the years, with all the ups and downs of big airlines merging or not, it was crucial to have control on currency and economic exchange with the rest of the world. The company signed up strong code share with American Airlines, JAL, Qantas, Air France, Air New Zealand… Big airlines' back up is critical, and being in a position to represent them is too. Partnerships benefit customers with more direct flights, and the possibility of using their companies' advantage membership cards and still collect miles and points. North American people, for instance, can get their miles in American Airlines advantage, as if they were flying on American Airlines.
To celebrate its twentieth birthday, Air Tahiti Nui just launched the latest- generation aircraft, the Boeing 787-9 Tahitian Dreamliner, that will make your heart grow fonder from the moment set eye on the massive and beautiful tiare tattooed on the plane. Once on the aircraft, you will be welcomed by a warm Polynesian crew, relaxed by the different shades of blue, the new ergonomic of the cabin, the three-class configuration : economy, premium-economy and business class, the Tahitian food and, more interestingly, the new technologies brought to it that are somewhat futuristic.
The company is partners with American Airlines, JAL, Qantas and Air France, among others.
The Dreamliner was built in 2015, has the same capacity, in terms of number of people,
than its predecessor, the Airbus A340-300, but has a carbon composite structure that makes it much lighter, and less weight is less fuel – 25% less fuel. Instead of four, there are two engines, the aircraft is pressurized at altitude and humidity is put in the air, reducing sickness and dryness. Game changer: the windows are 80% larger, offering breathtaking views, and can be dimmed electronically at the touch of a button. Turbulences are detected by smart sensors that adjust the surfaces of the wings, generating an up and down movement that Mr.Matthieu Bechonnet, CEO Air Tahiti Nui The future is now Air Tahiti Nui made the news this year when they announced the addition of a Boeing Dreamliner to their fleet. In operations since 1998, the company has been instrumental to the success of Tahiti as a top leisure destination. reduces motion sickness, new engines and engine casings created by General Electrics reduce the sound footprint down to 60% less in comparison to current airplanes, the air goes through an innovative purification method, the gaseous filtration… Air Tahiti Nui has taken it to another level of comfort.
Everybody wants to go to Tahiti, and new airlines have started connecting flights.
Between the fuel (-25%) and the noise (-60%), the Polynesian company is definitely leading the way of progress in flying. Air transportation is only increasing and the regulations stipulated by Paris (Accord de Paris) regarding reducing air traffic are difficult to maintain – only 16 out of 197 countries respect it. The least companies can do to take responsibility is reduce their environmental print.
M. Matthieu Bechonnet, General Director of Air Tahiti Nui, is very aware of global warming and natural catastrophes increase. Carbon impact is people impact, and these subjects are in the number one priorities.
While managing ecological issues, he also invests in people and is currently the first
employer in the country. Air Tahiti Nui provides jobs as well as opportunities for ambassadors, sponsoring over twenty people, of which, world champion surfer Michel
Bourez.
When usual long-haul aircrafts like Airbus 340-300 cost around 100 million dollars, the Boeing 787-9 Dreamliner costs around 160 million, a serious investment for the company.
The aircraft is more expensive, but more effective and environmentally conscious. All you need to stay profitable is… fly ! Filling up aircrafts and investing in awareness to the destination. 80% of the turnover is brought by foreigners flying to Tahiti. Consequently, prices are competitive and promotions very interesting. It will never be a mass market. 300k tourists is full employment in French Polynesia. Opening to the world brings jobs and opportunities to people that have never even flown. Entering an Air Tahiti Nui aircraft is writing a new story, every time.
Nowadays, the island is always full. Families, honeymooners, celebrities, even street art lovers. Everybody wants to go to Tahiti, and new airlines have started connecting flights. United just entered the market along with French Bee, a new French low-cost. There are currently 40% more seats coming in every week (+1200 seats)… It's a lot of competition and it will saturate the market, but it's a sign that the destination has a lot to dream for, and Tahiti, Moorea, Bora Bora, Easter Island… investors are coming from all around the world to create new opportunities.
UNESCO World Heritage classified Raiatea, Easter Island, Fakarava and the incredible wall of sharks for divers and non-divers… Searchers, sailors, artists find endless resources all around the country. Surfing, swimming, biking, hiking, sightseeing, you can do it all. French Commandant Cousteau spent years in these waters.
People are investing, architects are planning new infrastructures… The Tahitian Village is about to see the day, the ex-Hilton in Bora Bora is being refurbished, Sofitel is created over and underwater bungalows…There will be lots of space incoming crowds. Air Tahiti Nui focuses now on opening new points of entry in North America and Asia. It's time for market share!