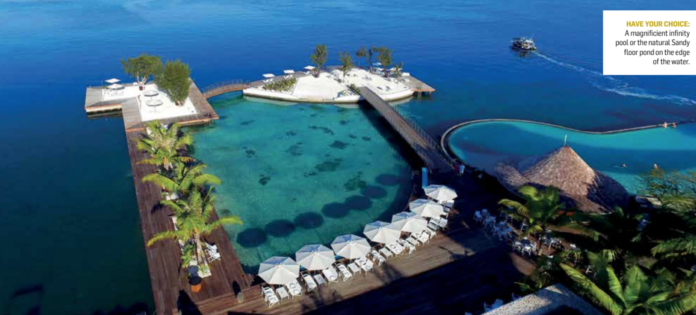 In the southern waters of the Pacific Ocean lay the islands of Tahiti and Moorea. On both islands, the beautiful, environmentally conscious, four-star, Manava Hotels and Resorts. Sophie Bessou the General Manager and Director of Sales and Marketing at Manava, also works for South Pacific Management, a company looking after small boutique resorts, cruises or similar products, adding a unique French Polynesian touch to them.
The Tahitian Manava Hotel, one of the newest properties around, counts eighty employees for one hundred and twenty-one kitchenette-equipped, medium-sized, rooms.In August 2018, after the hotel's year-long waterfront renovations were completed, the place re-opened: facing the lagoon of Moorea and hosting trendy restaurants and pool bars, it became the place to be for guests and locals to enjoy inimitable sunsets. It's signature, the alliance of a traditional Polynesian and a contemporary style, is much appreciated by honeymooners and the French and Americans, both wrestling the
market's first place in Tahiti and Moorea… the Americans being the biggest investors.
But, French Polynesia isn't just about the wonderful beaches. Culture, nature, hiking and events such as the Moorea Marathon and the FIFO Oceanian Movie Festival attract a different and specific clientele all year-long.
"It is crucial to be careful to the environment and to work towards preservation with local communities".
In contrast to the 2009-2013 period (Ukrainian and Malaysian crisis) that caused the loss of over 30% of arrivals in the area and the closing of many hotels, it is fair to say that the occupancy in Manava Tahiti and Moorea is doing very well and calls for more.
"The Tahitian Manava Hotel counts 80 employees for 121 medium-sized rooms".
New airlines, like French Bee since may 2018, now fly to the islands who are also advertised by tour operators and OTAs such as Expedia, Booking… Furthermore, special packages are available and new hotels are built to welcome bigger crowds for longer
stays.
"It is crucial to be careful to the environment and to work towards preservation with local communities" says Bessou. South Pacific Management works with the EarthCheck organization on their environmental projects, of which, their coral nursery in Moorea to foster the return of fish.
In constant innovation, the company is launching a top high-end product in March 2019 on Cirque du Soleil owner, Guy Laliberté's island of Nukutepipi…
Mme Sophie Bessou