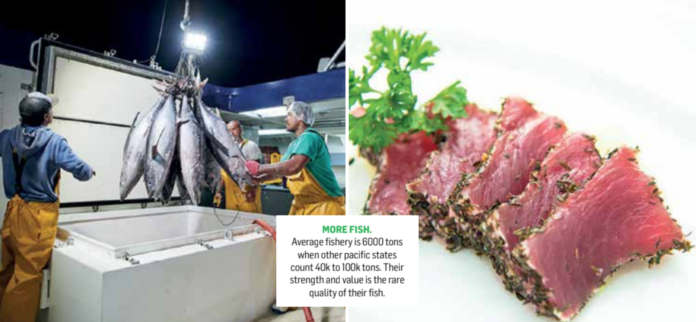 After retiring from her teaching career, restless Christine Moari started working with her entrepreneur and fisherman husband, George, organizing events and selling sashimi and carpaccio platters around French Polynesia. Her products met a great success, leading her to launching her own fish trade company, Oceans Product, in April 2009. Two months later, her platters were savored in Hawaii, soon followed by LAX, New Zealand, Japan and Australia. In ten years, the company grew from seven to twenty-five employees, all French Polynesians, with an average annual growth of 30%, and it is about to expand as the company recently obtained the European approval and the MSC label, authorizing their products in Europe and large-scale supermarkets across the USA..
In ten years, the company grew from 7 to 25 employees, all locals, with an average annual growth of 30%.
Georges Moari started working in the fishing department administration over thirty years ago. In 1993, after nine years, he went to the private sector and bought his first tuna longliner, which he sold in 2000 to buy four smaller tuna longliners and have his own fishing float. Tahiti Nui Fish was born. Since its creation, Ocean Products valorizes and sales Tahiti Nui Fish's merchandise.
Why is Ocean Product's fish one of the best on the market ? For over twenty years, the Moaris and their sons, financial and management directors, have been working on perfecting their techniques, finding inspiration in the Japanese savoir-faire. They catch one to nine tons of individually fished live wild tunas around 3AM every day. By 9 AM, after a meticulous process, they start packing the fish and send it to the airport. The turnover is very quick : what comes in the morning is flown to LA by Air Tahiti Nui at night. The fish couldn't be fresher. A video covering all of those steps will soon be released.
Today, the USA represent 99% of the export and 40-50% of Oceans Product's sales revenue. They have tight work relations with an LA-based wholesaler who redistributes the fish all around the country, all the way to New York City, where it is served at the finest venues. World famous Chefs come visit the Moaris in Tahiti to imprint themselves with the culture and bring new recipes back to their countries. Their fish was presented at the Sakura Matsuri Japanese Festival in NYC, they won the masterchef LA contest with an LA-based French chef… Local commercial support, internet, word of mouth, food shows and event sponsoring is how they generate their clientele, but the Boston Seafood Salon is where they canvass most of their clients.
Today, the U.S. market represents 99% of the exports and 40-50% of Oceans Product's sales revenue.
Priority today is to more fish. Average fishery is 6000 tons when other pacific states count 40k to 100k tons. Their strength and value is the rare quality of their fish. As soon as the fishery will grow, it will be
important to find other exportation zones. Both companies are investing in new technologies and building five, 100% ecoresponsible, highly performing longliners that will be ready by 2019. They are also elaborating modern workshops that can manage more fish and exploring diversifying species and importing fish to vary the local market.
Oceans product is a long-term family affair where projects are imagined through generations. There is no short term imperative profit. Their philosophy goes towards developing the local economy, protecting the environment and giving the best possible product to their clientele. They are a perfect example of a spontaneous, late entrepreneurship, family success-story.