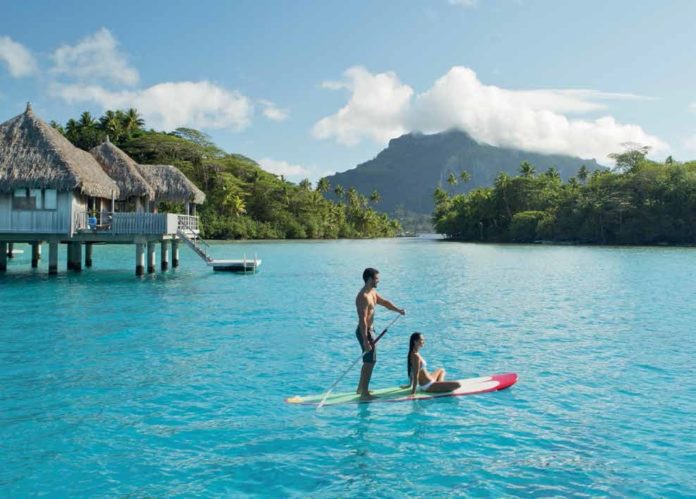 The Islands of Tahiti has historically been a favored destination for those seeking leisure, but is now rising as a truly all-inclusive place, where visitors of all styles and ages can live an unforgettable experience. 
Clear blue seas and white sandy beaches have long been the picture of The Islands of Tahiti. It has been the favorite destination for couples and honeymooners for years, but today, French Polynesia is showing how much more it has to offer, and how its people, with their joyous and friendly hospitality, make this a one of a kind place.
With a contribution representing around 13% of GDP, Tourism is the largest industry in the country, and most of it comes from the paradise island that is Tahiti.
For this reason, Tahiti Tourisme was established in 1992, as a private nonprofit effort to showcase and promote both local and international tourism to The Islands of Tahiti. "We are a destination marketing organization", explains CEO Paul Sloan, "Our national office is in Tahiti, and we oversee 12 international offices with presence in 18 different countries". Under the leadership of Tahiti Tourisme, the sector has grown exponentially in the last years, with January 2019 showing a 31% increase in visitors, compared to December 2017.
Having been known around the globe as an exotic destination with overwater bungalows and extremely well-planned development, the organization has successfully launched a campaign to increase the visibility of other features, and thus inviting a more diversified clientele.
"Overwater bungalows were invented here, but they are now replicated in many other destinations", says Mr. Sloan, "We knew we had to offer something else, something that showed our uniqueness". Their strategy consisted of offering free Wi-Fi services at the airport, and in exchange, they asked visitors to answer two questions: to describe what made them visit The Islands of Tahiti, and how they would describe their experience. "The result was amazing. People came for paradise, perfect beaches", adds Mr. Sloan, "But as they left, what had impressed them the most was how friendly the people are".
---

"You may find yourself fishing with locals, enjoying the spa at a 5-star hotel, or playing ukulele at a party".
As a result, in 2016 they launched a campaign, not based on the idea of beaches, but focused on the people and their culture. This enabled the different tourism operators and agencies to sell to a wider audience, making The Islands of Tahitiappealing not just to honeymoonersas it had been in the past, but also for families, sports enthusiasts and others. "It makes people realize that any trip can be special", says Mr. Sloan, "Regardless of your preferred style of travel, you will find value here".
Whether you seek leisure at the 5 star hotels, or you want a true local experience, The Islands of Tahiti offer different types of accommodation for different travelers. "We find many visitors want to mix and match. You can stay in a local Tahitian Guesthouse and live the authentic experience", says Mr. Sloan, "And maybe in the afternoon you can relax at the spa at one of our 5 star hotels". With incredible natural surroundings and a wide variety of activitiessuch as snorkeling, scuba diving, sailing, or trekking across the volcanic islands, The Islands of Tahitioffer experiences that you will never forget.
"You might find yourself fishing with locals in the morning, and playing ukulele in front of a fire at night", adds Mr. Sloan smiling, "I invite you to come and enjoy the amazing hospitality of The Islands of Tahiti".