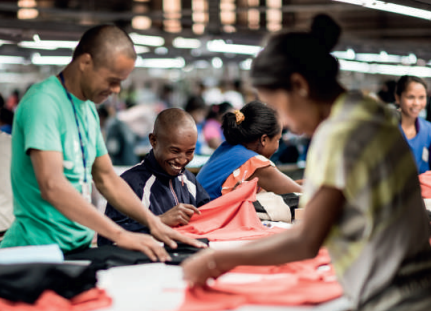 Benefiting from preferential exemptions and a strategic geographical location, Malagasy
trade and industry is growing locally and internationally.
Madagascar's industry has expanded due to its large local market of 27 million inhabitants and its privileged access to several regional and international markets with preferential custom duties. Regionally, it benefits from the IOC (Indian Ocean Comission) that connects it to Comoros, Mauritius, the Seychelles and French Reunion and Mayotte; COMESA, the major market in Africa with 19 member states and a 444 million population and SADC, the Southern African Development Community. Internationally, its key trade partners include China, France, India, Germany, South Africa, the Emirates and the United States, which is the second largest destination for Malagasy exports after France. The textile sector has the largest number of companies created under the free zone regime, having benefited from the customs exemptions under the AGOA (African Growth and Opportunity Act) and the EBA (Everything but Arms) agreements signed with the US and the EU respectively.
Its trademark is promoting a policy of high-quality production while protecting the environment and socially contributing to local communities. Initially, the company had to overcome some considerable odds having started just before Madagascar's first political crisis. "That moment was very tough", – says Mr. Arno SteenKist, general director of Flexknit, "it was either do or die for us". Regardless of the hardship, they made it through by creating joint-ventures with local factories that had been abandoned by their Asian owners. They grew very fast from 2003 to 2009, going from 400 to 6000 employees. "It was the golden years for textiles and for us in Madagascar", – he assures.
Nowadays, Flexknit has 6 factories in the country, 7000 employees and a stable annual growth. Europe is their main market but they  also sell to South Africa, which though smaller, has the advantage of being counter-seasonal which makes it beneficial for their workers since it guarantees having work all year round, explains Mr. Steenkist.
Like any major enterprise, the company faces important challenges. He highlights the current changes of the international market, such as the rise of online shopping and the decline of brick and mortar business, which have placed significant pressure on them. "In terms of costs we can't beat the textile giants, like Bangladesh or China so we are putting a lot of efforts in making the best quality as we are also trying to invest in sustainability and social responsibility".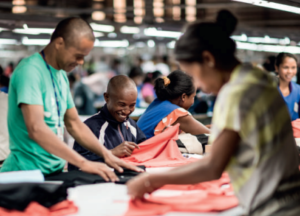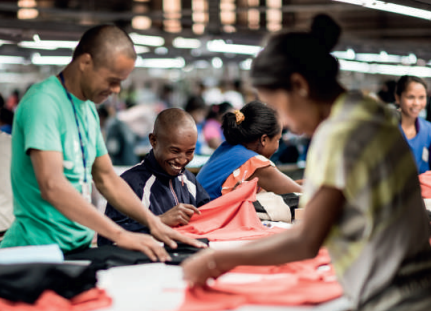 Another challenge is Madagascar's geographic isolation, which hinders the interaction with their European and Asian suppliers as well as the new demands of the market, such as the speed of online transactions. To counter those limitations and cope with the changes, Flexnit believes it is essential to invest in modern technology, in their case it translates into new knitting machines and top of the art dyeing equipment.
"Buy the Made in Madagascar label; it is made with a smile. Buy less and buy better»"
At the local level, there are difficulties connected to the country's governance limitations, which for Mr. Steenkist often leave companies to their own devices, but they have managed to turn them to their advantage: "In a country like Madagascar where there is a weak state, private sector should take a leading role" – he says. And they have done this through innovative solutions that benefit the company, the community and the environment.
They recently launched the "briquettes" project, where instead of burning wood or buying expensive fuel to make steam for the boilers used in their production process, they started making their own fuel out of compressed sawdust, rice husks and other organic waste. In the future, if the system works well, they plan to expand it and sell biologically-made charcoal to Malagasy families. Not a small feat in a country where 90% of the population burn charcoal to cover their daily needs and where deforestation is one of the main environmental concerns.
The company is also involved in various Corporate Social Responsibility (CSR) initiatives such as building schools and libraries, giving health and educational assistance and helping local NGOs solve culturally-sensitive issues like the adoption of twin babies, traditionally considered a "bad omen".
«In a country like Madagascar where there is a weak state, private sector should take a leading role»
However, Mr. Steenkist's "pet project" is something else. What started as the company's own "Clockwork Orange" football team, a few years later turned into one of the major clubs of the country, Fosa Juniors FC, with 200 players, youth teams, foreign coaches, a National Cup victory in 2017 and the 2019 Ligue de Madagascar championship. "We are a bit the Madrid or Barcelona of Madagascar", – he says, proudly, adding that when they play big matches you can see a full stadium with "12.000 people, all in orange".
Asked about his expansion plans, he insists they don't want to grow nor get more turnover. Just "buy the Made in Madagascar label; it is made with a smile. Buy less and buy better" -The Director concludes.