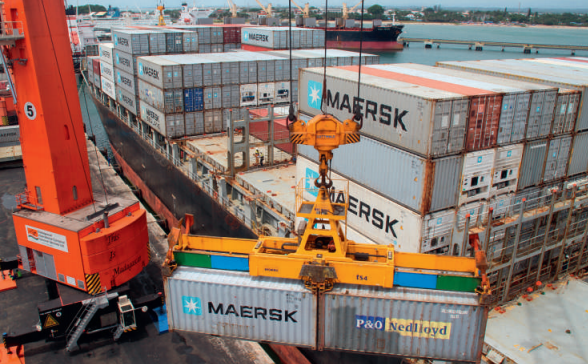 With an emphasis on modernization and accountability, Madagascar's customs authority is changing old habits.
Malagasy Customs, the State's customs authority, plays a crucial role in sustaining Madagascar's economic balance given the country's 5500 km2 frontier and its rich natural diversity. With 1280 employees, 180.000 operations each year and a 6% annual growth, their mission is simultaneously fiscal, economic and of protection and surveillance: to collect and insure state revenues, facilitate export and import operations, and ensure borders and natural resources by fighting illicit trades.
As its General Director Mr. Zafivanona Ernest Lainkana explains, although such a complex role has not always been successful in the past, things have improved a lot lately. "Unfortunately we were notorious for wood theft and had trouble securing our resources but we are now very eager to protect them and we know that if we lose them, future generations won't have anything, so we try to close the borders to all that illicit trade". Drug trafficking has also been reduced, mainly through the collaboration with sister customs from Reunion, Maurice and France, as well as bilateral partnerships with the US embassy. "Not later than a week ago we seized 46 kg of heroin in Tamatave", he recalls, "it was a difficult operation and the suspect managed to escape but we captured him soon after that. He was a highly wanted person in Africa, so these are positive signs we begin to see in our mission".
"These reforms are done to improve our performance, so investors see us as a partner that will help them reach their goals"
These changes started over a decade ago with their modernization process, developed in partnership with trusted private company Gasynet, which has radically improved their customs clearance by implementing a TradeNet e-single window "that allows all customs participants to be connected and have all the information at our parties disposal", he says, adding that this "public-private collaboration" has helped Malagasy Customs "to double their revenues within 10 years and continues to improve until today", proving itself as "a win-win partnership".
Other reforms have focused on improving its human resource management by developing a "culture of performance" in alignment with current government policies. As Mr. Lainkana explains, "we have always played the role of police and have always been on a position of power, so now we try to inculcate accountability". Therefore, in collaboration with the World Bank, in 2015 they introduced "performance contracts": performance-based pay for customs inspectors to motivate them to curb tax evasion and illicit financial flows, and reduce customs clearance times. This program is currently being improved by readjusting its indicators to reduce dependence on inspectors' decisions and by expanding it to other ports besides Tamatave as well as other services connected to their commercial operations, such as risk analysis.
«We have always played the role of police and been on a position of power, so now we try to inculcate accountability»
They also plan to adopt an objectives agreement to continuously evaluate all office managers' performances and to implement an open data platform available to all partners to further guarantee transparency and good governance. "All these reforms are done to improve our performance, so those interested in investing in Madagascar see us not as an obstacle but as a partner that will help them reach their goals" – Mr.Lainkana states enthusiastically.