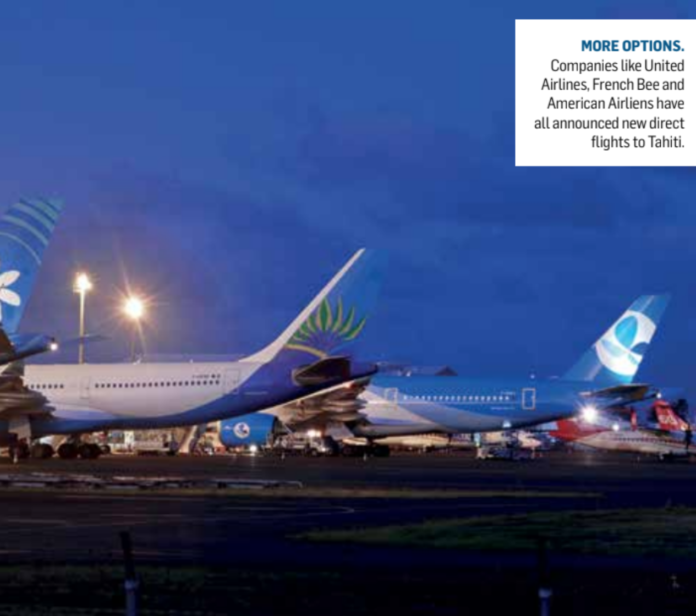 French Polynesia is known around the globe for being one of the most romantic and paradise-like destinations on Earth. Its unparalleled sandy beaches and crystal clear seas
have attracted tourists from all over the world, making tourism the number one industry in the country. Part of its charm relies on its secluded nature. As a collection of 118 islands in the center of the South Pacific Ocean, not only is it far removed from other countries, it is also widely spread. Their total area, including water, spans a terrain as large as Europe, which makes internal travel highly dependent on air transit.
With 46 airports across the islands, and only one international airport in Tahiti, 95% of travel is operated by Air Tahiti, a local airline that is constantly trying to improve the reach and connections between different islands, even when some destinations may not prove profitable. Although there are some ferry options, no other way of travel is available widely. Maritime transport is important when it comes to imports and exports, and the movement of produce across the country, with four major ports and harbors in Papeete, Rikitea, Mataura and Utuora.
Efforts led by both private and public entities have significantly improved the conditions of transport and communications in the country. Companies like Air Tahiti Nui, along with organizations like Tahiti Tourism, have played an important part in communicating the country with the rest of the world, and showcasing the wonders of French Polynesia abroad. Today, more and more airlines are turning their attention to the remote country, with United and American Airlines, as well as French Bee adding new direct flights from new ports of exit like San Francisco. In fact, the number of visitors has been growing steadily for the past four years, and many of them are choosing to get to know different parts of the country.
"Total area, including water, is large as Europe, which makes internal travel highly
dependent on air transit".
Though the wide extension of the country has certainly been a challenge for the governments of French Polynesia, the current administration is optimistic about the international connections already made, and is focusing on communicating all 79 inhabited islands. "One way we are doing this is by improving our broadband networks, including more and more people", said President Fritch during a recent interview, "Digital networks today are as important as roads and airports".
Despite the country's geographical challenges, and needs for further improvement, French Polynesia seems committed to expand their transport and communications for both locals and visiting guests.